I already bought an album by french house veterans SHAZZ (aka Didier Delesalle). It was his 4th album "Beautiful", released in 2004, on which he invited an all women's vocal cast of quality to sing beautiful songs for a whole package of delicate & mellow after-hours electronic and organic soul. A stripped to the bone cover version of the Annie Lennox song "Cold" by Laura Mayne-Kerbrat (ex Native) introduced me to it but the whole album is an intemporal masterpiece for loungin' evenings with friends, all with good french food and good wine, the perfect music to listen to -and- to have conversation with.



After years of wait, Shazz delivers another masterpiece and I didn't even knew it before seeing its beautiful cover in a record shop. I was tempted but wanted to hear it a little before buying it straight away, even though the cover art and nice price made me want it hard... So when I came back home, I surfed into myspace and went to his page (
www.myspace.com/shazzmusic
) to listen to his player with current songs and instantly knew I already regretted not to have bought it. So I ordered it on line and finally had this latest object of desire a few days after in my CD player.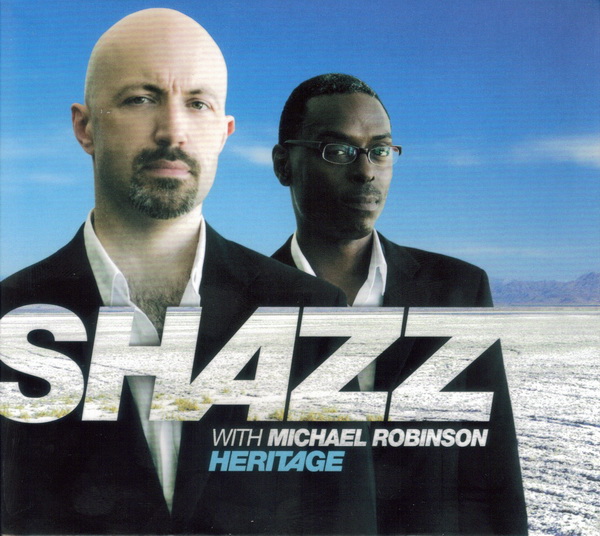 "Heritage" is another warm and mellow piece of time that you need to listen from its start to its end, untemporal, which means, like for "Beautiful", it will stand the test of time and won't sound "old" in ten years from here. Shazz goes back to his House roots, never leaving the organic Soul, but adding a touch of Blues. This album makes me think of "Play" by Moby, but with less electronics & samples and more soul & real vocals.
Shazz delivers this album credited with the lead vocalist, previous partner in crime on some songs for first albums, Michael Robinson. Pianos are played by long-time partner & co-writer Alexandre Destrez, who has collaborated with Ludovic Navarre (aka Saint-Germain), and to know what to expect from this musical-journey-into-after-clubs-drive-out-in-the-american-desert-at-sunrise, just feel it's all breezy and warm, more mid-tempo & atmospheric than uplifting and uptempo but all in all, it is all cheerful and joyful, as if you were laying arms open wide like a cross on a warm desert ground with the eyes closed and a red sun upon you re-charging your inner battery. This album is an absolutele must-have ! In these troubled times, it will make you forget your worries for a while and have a musical journey in a better place, between yesterday and today, between dreams and reality.

I've only got one bad word to say about it : it is TOO SHORT! When the play is over, you can only push the "repeat" button once more, again and again, or put on the repeat mode
.
Shall I add this physical CD is once more packed up in a quality digipack with beautiful photographs and if you want to buy it, buy it physical rather than digital, please !