Another Michal's record in my music reviews today but this time we're flying away from Europe to Australia to read about his first long play CD from (already!) 2004... So it is nothing new but released on an independant label and available only from CDbaby.com, it's never too late to order.

I've ordered mine a couple of days ago and received it today. Shall I say that the CDbaby team is very friendly and efficient? They're suppliers for hard to find (because not released by major companies) stuff and they use humour in their mails, pack CDs well and I've never been deceived.

First, let's solve out who's Mr. Nicolas?
Well, let me say the important things about him only :
1/ He's got a marvellous voice of an angel, sometimes sounding warm and deep, sometimes higher and nearly feminine
2/ He looks like a greek god statue come to life

3/ He produces anthemic dance that fits perfectly every Sydney's gayfest Mardi Gras OR a dance music lover's CD player


If you're curious enough and want to read/see more of him, just go to his site
www.michalnicolas.com
or to his MySpace page
http://www.myspace.com/michalnicolas
if you want to hear some.


Now, let's get back to his album called "UnCovered", what sounds tacky as he show off his muscular body on the cover and booklet and there are 6 cover versions out of 13 tracks.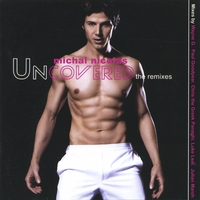 The first one that springs to my mind is the song that made me know of him, his wonderful version of Billie Ray Martin's 1994 anthem "Your loving arms". It is included in its wonderful Wayne G anthem radio version and in a longer (and darker) DJ Anim remix.
Maybe it's because of this song I ADORE and that always makes me sing along like a Jimmy Somerville in heat (to great shame from my neighbourhood), but I really think he gives it justice and can really compare to the original version, giving it a more festive and instant feeling, while Billie's version was more introspective and warm. The Wayne G heaven anthem should have been called orgasmic mix to tell the truth about it!

Now there are other covers, Pat Benatar's "Love is a batterfield", Bronski Beat's "Smalltown boy" (Michal's voice is incredible on it!), Lou Reed's & Queer As Folk UK theme's "Perfect day" and Maria McKee's "To deserve you".
The last one has been his second single and it is included in a Chris 'The Greek' radio version that is perfect for the dancefloor, more americanized than the versions Almighty did for Deja Vu feat. Tasmin. "Perfect day" finishes like a full on vocal gospel choir house anthem and makes you want to join a dancing crowd and put your hands up in the air singing along with Michal.

But Mr. Nicolas is not just a cover boy and he co-wrote the 7 other songs, mainly with his aussie producer Steve Peach (he worked with Tina Cousins, Lonnie Gordon, Märy Kiani & Deep Obsession to name a few I have in my disco).
There is a tribal deep house number "Feels like love", a seductive hypnotic trance anthem "I'm addicted", a trance aerial & epic journey called "That's the way I miss you", a beautiful EBTG inspired "Only if you love me", an electro disco & too much vocoderized "I lost my baby (to the DJ)" that is (to my ears) the only letdown of the album and... as I saved the best for last, two WONDERFUL angelic trance perfect songs that have been touched by a heavenly grace when they were in studios, "I will find you" and "The morning after", on which Michal' voice divinely melts with his background vocalist Erika.

For those who think pleasure depends on the size, I must add that there are only 4 tracks out of 13 that fit in the "radio edit" format while all the other are from 5'30 to 8'15 mixes (and that annoyed me a little at first listen cos I'm a true radio edits addict myself... but to my surprise, the songs don't seem too long, nor that long).
Some are quite melting into each other too and that irritates me a little but hey, that's a party album and they're not mixed, they just start when the prior ones cut. I only like it when there's an intro, a middle and an end, like for making love there's prelude, in-and-outs and cooling in each other's arms after gettin' off.
I guess this CD would then be, if transposed to love life, an orgasmic multi-partners orgy
; some tracks are seperate and others joined, some long and some short, and they cover many different styles, but all in a same dancing goal.

There are some big names on remix duties. I've already said it but let's do it again, Wayne G, Chris Panaghi, Julian Marsh, Paul Goodyear... Michal Nicolas has worked with Gerry DeVeaux & Rozalla on the (Ultra) DeVoted single's project too and I expect greater things to come from a singer that's so vocally talented and that's looking gorgeous & sexy!

So what am I hoping for now?
See Michal release a new album full of new songs in shorter versions. After this first CD for the clubs, I'd love to see a CD with dance/trance songs, some covers for good measure among them, and some slow ones too (his voice would sure fit well a drama ballad that will get our eyes all wet and nose sniffing) that could appear in a remix for dance form at the end of the tracklisting too for sure
.
That is to say that after meeting him first with this sonic orgy, I'd hope next time we meet on CD, there'll be more intimate moments to dance to with him, at the beach, at the gym, on the road, at the club, in a disco, at Mardi Gras, on the couch, by the window while it's raining, same changing moods, but in more episodes 'cos 13 tracks are not enough!

That would be heaven on earth for sure but for now, I think I'm gonna take this CD to my car cos it'd make me feel good for the day while driving me to work tomorrow morning!