After years and years of performing his art on stages & on several singles, Marc Massive, frontman of his multi-partners music entity Massive Ego, has finally released his first Long Player CD, "Nite Klub Skewl" (on underground dance label Klone Records), and it's... em... MASSIVE!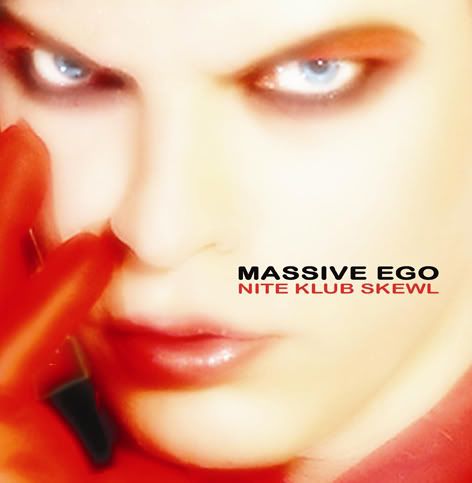 The tracklisting of 13 tracks includes his previous singles and known songs as well as new anthems and after pre-ordering it back in January on Amazon and beeing delayed again and again, I've cancelled my order and bought it elsewhere to finally receive my CD full with a nice coloured booklet with photos, notes & credits yesterday. I've put it in my CD player and discovered the new tracks as well as the older ones and I must say that I LOVE IT at around 85% for there are 2 songs near the end that I, for now, don't like as much as ALL the others... That's a good rate anyway for a dance album... It's just that the title track is maybe more hard edged techno dance than other tracks and it'll take me longer to get into it and I'm so in love with the original version of 1996 Belvedere Kane's unreleased promo single "Never felt as good" (a work of ex-PWL Jewels & Stone) that I can't bear their cover version after just three listens.

And to talk a little bit more of the two greater fantastic producers/remixers that started their career at PWL, I have got to add that Barry Stone is one of Marc's partners in crime here as there are three other songs linked to him, the Gingell/Stone song "Murder", "Wrecked", he co-wrote with Mr. Massive himself, and the cover version of Duran Duran "Planet Earth", that he produced.
Among the other cover versions, there is naturally their Dead Or Alive version of "My heart goes bang" of which I owned the CD single of 2002, and dare I say that Marc Massive could have been the musical son of Pete Burns... Inspiration is not enough to call this. Marc must have had a musical crush on dead or Alive when he first turned up the TV and Barry Stone has collaborated with Pete too
.
Then there are The Beloved's beautifully danced up "Sweet harmony", Cerrone's "Supernature", Divine's "You think you're a man", Depeche Mode's "Master & Servant", Animotion's "Obsession" & The Adventures' "Broken land". Marc co-wrote one more track, "Fight the feeling", which sees 80's Scarlet Fantastic beauty Maggie DeMonde feature (and here again another name picked up from Barry Stone's agenda I know but surely a singer Marc Massive gets inspiration from too) and it is one of my favourite ones! (with "Wrecked"). This original has HIT written all over it and it's got to be released as a single for me, and it'd change from the previous cover versions.

So Marc co-wrote 3 songs out of 13 and he co-produced 3 tracks too. The other major music directors are Barry Stone and Klone wizzard Ross Alexander. Other Klone relatives are invited on backing vocals, Jacquii Cann, Dusty O & Teresa Marie and the whole project sounds like a very good Klone release, which means
you gotta like your cover versions being danced up,
you gotta like your dance track to be camp pop & Hi-NRG inspired,
you gotta like to dance around your bedroom with your hands up in the air and the bassline on your hifi playin' loud & heavy,
you gotta like to be (or try to be) the singer's additional backing vocalist 'coz you can't help sing along with Mr. Massive when he does his Pete Burns on the mic
and...
that's all folks!

YOU GOTTA BUY IT
'cos it's better to buy a good dance album on an underground dance label than buy the latest cheap compilation at your local HMV to help the music we like to stay alive and to get maybe sooner than this one a second album full of pop lil' stars.

So don't stay away from these links :

http://www.myspace.com/marcmassive
http://www.massiveego.co.uk
http://klonerecords.com/releases/moreinfo.php?ID=271
where you can listen to their songs and buy the album.