It's been a long time that I hadn't taken the time to post something and it was mainly due to my work taking all my energy at the time, and maybe there wasn't some strong release making me want to post about it ...till tonight
.

It's midnight and I'm about to write something new about some good old guys that have just released a best of here and it gets me excited enough to post about them :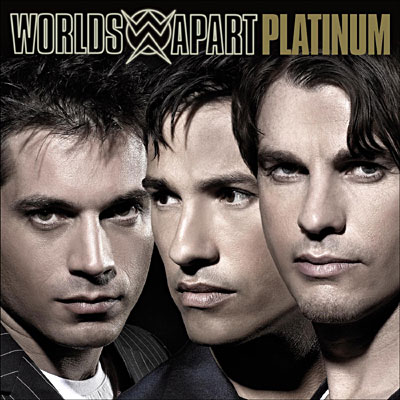 Worlds Apart are back!
There are only three of them remaining but we all know manufactured girls / boys bands see their members come and go with every single release.
Worlds Apart is no stranger to that fate but what amazes me is that they're coming back with a nice piece of a Best Of CD called Platinum, including their most greatest old hit singles (10 tracks) as well as some new songs (4) arranged with 3 interludes. The boys still look sexier as ever and they just sound as good!
But first, for those who weren't even born in the Boys bands era, let's sum up things a little :

Worlds Apart first came up in England in 1993 where five boys were lined up by Garry Wilson to be opposed in the UK medias & charts to pop phenomenon Take That.
Steve Hart, Dan Bowyer, Aaron Paul, Patric Osborne & Schelim Hannan did their best, sang in perfect harmonies, appeared shirtless on their CD covers & videos, and appealed to both little girls & gay guys, but they didn't succeed in gettin' that high in the britcharts...
Heaven must be missing an angel started at 29.
Everlasting love did better but only reached 20.
Could it be I'm falling in love was their finest moment by reaching 15. Noticeable is the fact that, like previous single, it was co-produced by Kim Wilde's brother Ricki.
After this, they went through their first line-up change when Patric left to go solo (but only released one single Love me on Media records, house of Cappella) and Cal Cooper was called in as new member, and then they could release and promote properly their new single & album Together.


It included the last two Stock & Waterman songs before the final PWL split, Same old promises & Experienced, as well as a cover of Earth Wind & Fire's September or a song oddly called Arnold Scharzenegger, all wrapped up with some good pop producers like Phil Kelsey (of DMC), Tim Lever & Mike Percy (of Dead Or Alive), Pete Schwier, Mark Taylor (of future METRO fame), ex PWL mixmaster Dave Ford or Ray Hedges.
Their fourth single Beggin' to be written, some nice ballad, gave them back the 29 position and then they were off. It must have been a bad choice of single after 3 pop-dance cover versions...

The group looked like it splitted up with Dan & Aaron being the next ones leaving and the truth is that their UK career ended then. But like a cat having more than one life, Worlds Apart weren't calling it a day and they re-surfaced in late 1995 in Germany with a new member, ex Brother Beyond singer Nathan Moore, along with remaining members Schelim, Steve & Cal.
Having recorded new material with some german dance producers, they were given a new life in a more Dance Group image with Baby come back. After some Christmas single for fans, When it's christmas time, they followed with Everybody and the album of the same name, soon releasing all these in France to greater success than ever.



Everybody got released and re-released, giving life to a good string of hit singles, Baby come back, Everybody, Je te donne, Everlasting love '96, Just say I said hello & You said, before a brand new album reached the same heights : Don't change, Quand je rêve de toi, Back to where we started, Je serai là, Rise like the sun all were issued from the Don't change album (in two editions due to Schelim's departure & replacement by cutie Tim Fornara).
In between Germany had its fair of exclusive singles, as their french ones were limited to France naturally, Queen's cover I was born to love you or Beatles'
She loves you / Sie liebt dich.
Then there was some strange Haribo sponsored single Close your eyes before it all became quiet and less shouty in the Worlds Apart fans' clan... The boys bands mania had passed!



The boys didn't give up and after some break, they got back in 2000 with the Here and now album, sounding mature and pop-rock instead or pop & dancey. It flopped badly and only two singles were released, I will & Language of love.

Then it seemed Worlds Apart were gone for good, Tim leaving the other three, Nathan doing some managing job for UK Real TV flopstars Phixx, Steve doing some acting an Cal becoming a father. They reunited for an online only album The Brotherhood in 2005, just before Take That intended to come back by touring the UK and making the BIGGEST comeback of the century with their latest album
Beautiful world.

Worlds Apart reformed for a little show in Leipzig and when fans from all over the country rushed in the snow to attend to the concert, their management decided to try and come back like Gary Barlow & co just did.

The boys, among whom Steve is the only former band's member, worked on new material and chose to cover some Romano Musumarra's hit of the 80's for Demis Roussos, On écrit sur les murs. Backed by two more english songs (Keep smiling, One million times) and some more french lines (Au-delà des larmes) written by Pascal Obispo pal Asdorve (aka ex popstar Frédéric Chateau), it is their comeback single and the taster of their best of, called Platinum, that got released (in France only first) on 29th of October.

I wish them the best, if the success is on the rendez-vous, there'll be a new album in 2008, and ...em, em, Cal, I've got a personal message for you : You've always been the cutest one and you still are
.