When the lead vocalist of UK dance act M People chose to go solo, she did it with a marvellous and soulful tune she cro-wrote with Peter-John Vettese : it was called "Proud".
Released in May 2000 in the UK, it charted at #14, much better than it's follow-up "Holding on" which only made it #54 in the following summer, but it wasn't the hit it deserved to be.
In the same year, it was chosen to musically illustrate a strong scene in the Queer As Folk US first episode, when Brian & Michael are together on the hospital rooftop, just after the birth of Brian's son.
I suspect this song has been a QAF fans' favourite because a new exclusive remix by Peter Presta was chosen to close the fifth season of the series, broadcasted in July 2005 in the US.
His clubby remix takes the song to another level and suits the magical ending scene at Club Babylon. Both versions are available on the QAF soundtrack CDs.

Strange enough, this same song re-appears in the UK charts the same month, that is to say 5 years later than its original release. This time, it has been chosen as the anthem for the London 2012 Olympic games campaign.
Despite good radio airplay, it only charted #33 after London won over Paris but its impact was completely lost in the bomb attacks in London news of that same week.

Now if we count, the song has already achieved 4 lives from the moment it was released but as if it wasn't enough (and we never get enough of a good song), to help promote the release of her brand new album "Close to a miracle" and single "Radio on", Heather Small got the latter remixed by US remix whizard Josh Harris and for good measure he added to the package a new remix of "Proud" that is pure ecstacy.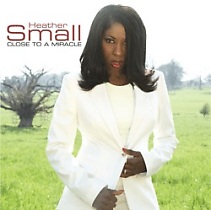 His short and full mixes of it are only available for downloads on a Josh Harris Remix EP (I found it on iTunes but it may be elsewhere) and it is definitely worth the price!
"What have you done today to make you feel proud?

You could be so many people

If you make that break for freedom

So what have you done today to make you feel proud?"

Well... today I've tried my best to help this song be known by more people...
and if you give it a try and like it then you would make me feel proud for that
.